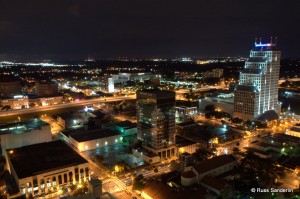 Not quite as interesting as pointing towards the more busy side of downtown, but another view of downtown which includes the Bank of America building. The bright vein that runs through the middle of the city scape is interstate 4. It represents the busiest and ever expanding artery in the Central Florida area. On the other side of it is the out dated Orlando Arena or also known as the TD Waterhouse Arena, which is where the Orlando Magic play.
Eventually I imagine as long as the Orlando area continues to keep growing, this area will also be filled with large multibillion dollar buildings such as the one I'm standing on for this picture.
This was taken on top of the Dynetech Building downtown on the 29th floor. Used a f/10 with a tripod.